New Zealand Certificate in Hairdressing (salon support) Level 3
The New Zealand Certificate in Hairdressing (salon support) Level 3 is an internationally recognised NZQA approved programme that offers foundation skills, preparing you for a future in the hairdressing industry.
This programme will cover hairdressing theory and practical skills where you will work on clients in our salon as well as being involved in hairdressing competitions, community events, and photo shoots.
All course content is delivered face to face on-site at BHB Academy where we operate from a purpose-built, fully equipped salon that runs commercially for authentic assessment situations.
Students are taught by award-winning, qualified tutors with both hairdressing and teaching as their passion.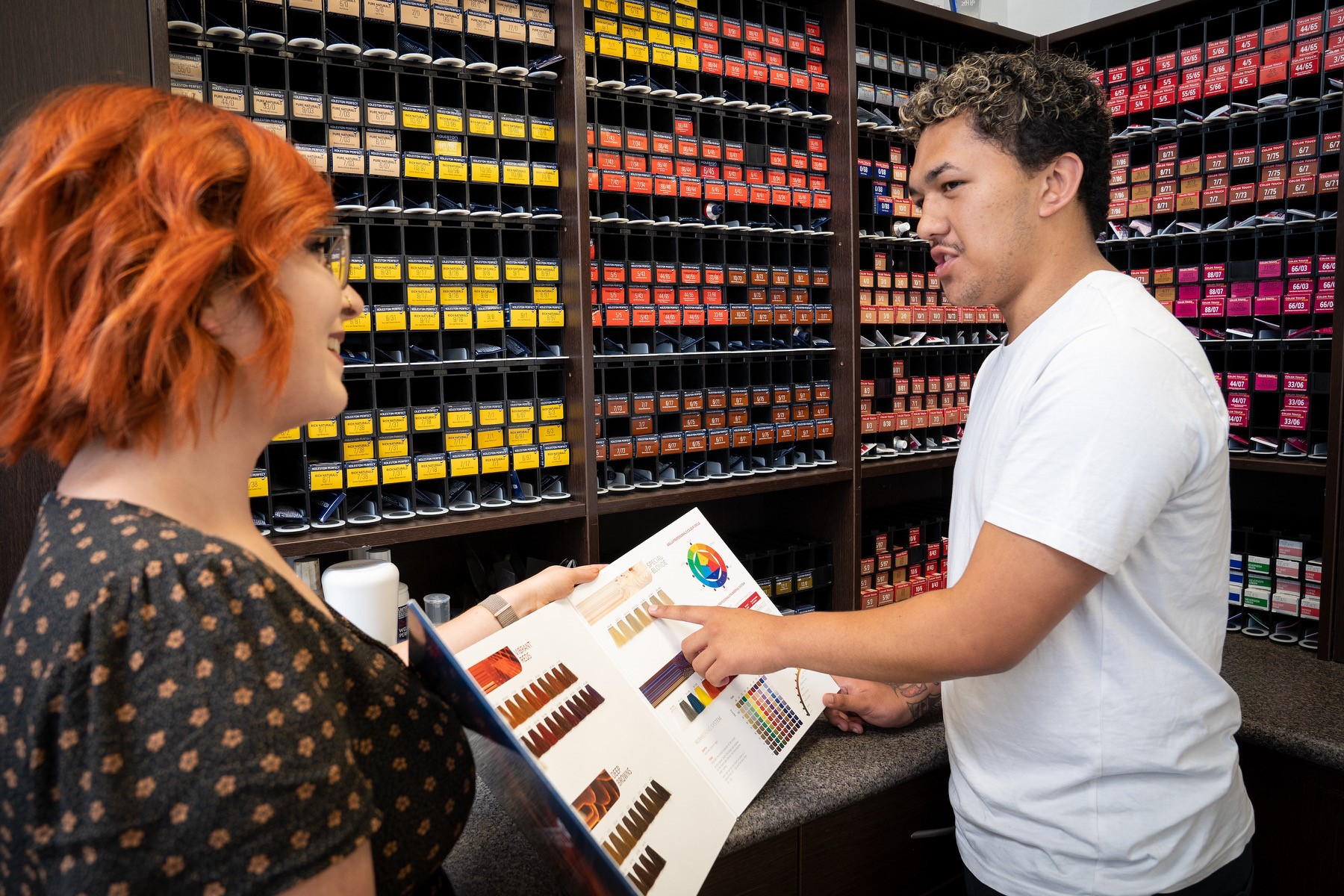 Career Opportunities
Once you have completed the New Zealand Certificate in Hairdressing (Salon Support) Level 3 you will then be able to progress onto the New Zealand Certificate in Hairdressing Emerging Stylist Level 4 or you may be able to enter into salon employment.
Entry Criteria
Applicants must be 16 years or over at the time of commencing study and have achieved NCEA level 2 or above.
Any applicant whose first language is not English may be required to provide evidence of an overall IELTS (Academic) band score of 5.5 (with no score below 5.0) or equivalent. Enrolment is subject to approval by the directors.
A passion for hairdressing and the commitment to complete your hairdressing qualification is essential.
You must also be able to meet all enrolment requirements as stated in the Enrolment Guide
Course Duration and Hours
This course is 40 weeks
HOURS:
Tuesday               9:00am – 5:00pm
Wednesday         9:00 am – 5:00 pm
Thursday             9:00am – 5:00pm
Friday                  9:00am – 4:00pm
Monday is a self-directed study day used for projects and assignments
Course holiday breaks
BHB Academy follows the Ministry of Education school term and holiday breaks.
NB:  Except for the October holidays where one week's holiday is taken only (the first week). This is due to our early finish in December so as to accommodate student's employment in salons.
Fees Schedule 2023
Fees:                     $7,453.00
Equipment Kit:   $1,000.00
Total:                     $8,453.00
You may be eligible for Fees Free funding. To see if you are eligible visit www.feesfree.govt.nz
All NZ and Australian Citizens are eligible for loans and allowances and must be applied for through Study Link You can also apply for course-related costs for the equipment kit required for the course.
Fee Protection
Student fees will be held in a trust in compliance with section 236A of the Education Act 1989 as amended by the Education Amendment Act (No4) 1991.
2023 Intakes
31st January 2023
18th July 2023
Enrolment Procedure
Click here to fill out an enrolment form or for assistance with enrolling contact Mel on 063583878 ext. 4
You will hear back from a member of the enrolment team to schedule an interview time. Having support around you is important so we encourage parents/support people to attend this interview with you.
BHB Academy may then present you with a letter of offer to pursue study in the New Zealand Certificate in Hairdressing (salon support) Level 3.
You will also be sent further enrolment documentation to read through, including forms you need to fill in, sign, and return to BHB Academy as part of your enrolment requirements. These will be sent to you via email.
Withdrawal/Refund Procedure
If you wish to withdraw from a course after payment of any monies (in full or part) you are required to do so in writing by filling in a Change of details/circumstances form Please email salina@bhbacademy.ac.nz to request this form. You are required to do this within the refund period of 8 calendar days after the course commencement.
If you withdraw within 8 calendar days of the first day of the course you will be entitled to, upon return of all equipment, a full refund of all monies less a $500 administration fee.
Please see BHB Enrolment Guide for further information on withdrawal/refund processes.
Course Content
Client Care
Salon systems
Product knowledge
Long hair styling
Shampoo, blow waving, and setting
Colouring and highlighting
Theory of hairdressing
Introduction to scissor cutting
Health and safety
Equipment Kit
You will be required to purchase a kit of equipment that you will need to use throughout your study with BHB Academy. This can be purchased through BHB Academy using course-related costs available through Study Link. You can view the equipment list here